6 Inventions Changing British People's Lives In 2017
Posted on 2/08/2017 by
From a pair of "glasses" that can help some legally blind people see to the latest in prosthetic knee technology that's now available on the NHS – here are some of the products helping make people's lives better.
BuzzFeed Staff
1. These glasses that help legally blind people see.
Brian Casey didn't ever expect to see the expression on his wife's face.
After two sports accidents left him visually impaired 27 years ago, Casey was only able to see people as a blur, could no longer read print or handwriting, and lost some of his colour vision, too. But now he's become the first person in the UK to use eSight 3 – a pair of high-tech "glasses" that can help some legally blind people see.
​
"When I first tried them it was a bit like being in a sweet shop: I just wanted to take all those visual images all at once," Casey tells BuzzFeed News. "I was doing silly things like looking at nuts and bolts on the ceiling – I don't know why, just because I could."
Of course, these aren't ordinary glasses. They contain a camera that captures images in front of the user, processes the image using an algorithm developed by the manufacturer, and displays the image on two screens facing the user's eyes.
"It tricks your brain into making it look like you're seeing in the distance even though the glasses are only a few centimetres from your eyes," says Casey.
Users can also take photos and manually zoom in using eSight. And there's a battery pack, which the user puts in their pocket or on their belt, that powers the glasses.
The company that makes eSight is based in the US, and the glasses launched in Europe in June this year. A headset costs £9,995.
Casey met his wife, Beverly, at a rehab centre in Torquay. "I was just wallowing around after becoming visually impaired, but she was visually impaired from birth," he tells BuzzFeed News. "She basically gave me a kick up the backside and said 'You can do anything you want.' And I did."
After working in several different jobs but always feeling like he had to hide the fact he was disabled, Casey settled into a job at N-Vision, a blind society based in Fleetwood, Lancashire, where Casey and his wife live.
As part of his job, Casey helps other people try out new technology that might help them see better. The eSight glasses don't work for everyone, and Casey says he tries to prepare people for this before they try them on. "I have to dampen down expectations," he says.
But for Casey, they do work. Aside from reading people's facial expressions, he says while wearing the glasses he has increased colour vision and can read print again. "I haven't seen color for such a long while, and I realised how much I'd missed," he says.
For now, Casey wears the glasses mostly for specific tasks, but says he's building up to wearing them for more of the day. He says he can't wait until the football season starts again next year, and plans to wear his glasses to reignite an old interest in the game. "I used to be a big football fan, but I haven't been to a match now in 27 years," he says.
2. This artificial knee helping amputees walk smoothly again.
Most triathletes just have to worry about getting a wetsuit off as they transition from the swimming stage to the bike ride in a race. But Chris Arthey has to take off his wetsuit, and then put on his prosthetic cycling leg.
Chris and his wife Denise were on a motorcycle holiday in Texas when a collision with a drunk driver left them severely injured. Chris was kept in a coma for three weeks and, in the end, they both were left with above-the-knee amputations of their left legs. "We ended up with matching injuries, but we still have each other," Chris told BuzzFeed News
Nine years later, Chris is back to competing in marathons and triathlos, and Denise is back gardening, volunteering at a school, and singing in a choir. "It's not like our lives have changed that much really, with what we can do," says Denise.
They were living in the US at the time of the accident, and at first used mechanical prostheses. After about a year, they both wanted to check out other options, so they switched prosthetics specialists to try what are known as microprocessor knees.
Prosthetic knees have to deal with a lot of different tasks. There's sitting, standing, kneeling, bending – and that's before you've even started walking. Microprocessor knees, unlike mechanical knees, have onboard sensors that detect movement and adjust how the knee acts accordingly. And they can be programmed for each individual's specific gait and preferences.
In December last year NHS England announced it would start routinely funding microprocessor prosthetic knees so more people in the UK can now access this technology.
The knee Denise and Chris's new doctor suggested came from a company called Blatchford, based in Basingstoke, Hampshire. As soon as they tried it, they didn't want to go back. The pair use Blatchford Orion3 knees, along with EchelonVT ankles, for walking and everyday activities, and Chris has different legs he uses for running and cycling.
The couple say that it's the little things most people wouldn't think about when walking around that affect them as amputees, and that in Blatchford's latest microprocessor knee, the company has found ways to make their lives easier.
Standing up for any length of time is difficult with a mechanical knee, because you can't spread your weight evenly. The Orion3, though, solves this problem with its standing lock, which activates automatically. "The automatic resistance helps you right yourself if you begin to fall," says Denise. "I've had a couple of stumbles this week, but you don't end up on the floor because the resistance ramps up and it holds you long enough to correct it."
The knee also keeps pace if you speed up or slow down while walking. "If you're on a level surface and you walk carefully, you can walk almost without a limp," says Chris.
Chris says the experience of becoming an amputee has made him realise what a "fantastic piece of equipment" his original leg was. "I'm not downplaying the science because the prosthetics really are amazing, but gosh the original equipment is superb," he says.
3. This "box of tricks" that means anyone can play the games they love.
Lepmis' switch access controller pod.
Geoff Harbach has worked as a clinical technologist at the West Midlands Rehabilitation Centre for 25 years, helping disabled people access technology they need to live their lives, like wheelchairs or communication aids. But he found that even after he set them up with technology that would help them to get around, communicate, or do basic tasks like open their curtains or access computers, lots of people were telling him they were still missing something. "So many of my clients were saying, 'Well that's great, but I want to be able to play my PlayStation,'" he says.
So Harbach decided to do something about it. In 2005 he reduced his working hours in order to spend time finding a way for his patients, and other disabled people who couldn't use typical games console controllers, to play all the same video games as everyone else. That's how Lepmis was born.
They key piece of equipment Harbach came up with is the switch access pod that he calls a "box of tricks". It contains a circuit board from a controller – for a Playstation, for example – plus electronics added by Harbach to allow it to interface with sockets and connectors outside the box. This means he can plug in joysticks and switches, or whatever controls someone can use, and trick the games console into thinking the instructions are coming from a standard controller.
One big fan of the pod is Phillippa Young's son Dave, who's 22 and has cerebral palsy. He doesn't have any speech or fine motor skills, she says, but he can use an eye-gaze system, where users direct their eyes to specific points on a screen to compose messages and communicate – and, crucially, he can use switches. When they got hold of it around 10 years ago, Young says, Harbach's "box of tricks" changed her son's life.
"He became an ordinary gaming teenager when he got that," she says. "I could not overemphasise the change. It completely revolutionised his life, socially.
"He can now get online and play with his brother who's hundreds of miles away, or when he was at school, he could get online and play with his mates. He went from needing you to be sat with him all the time, to saying 'Leave me alone, I'm playing.'"
Right now a switch access pod costs £375 to buy, plus the cost of whatever joysticks and switches someone needs. Harbach calls the pod "a temporary solution that we've been using for 12 years". What he'd really like to do is to talk to the games companies themselves and come up with a more permanent solution.
But for now, he'll keep working with what he's got. When someone gets in touch with Lepmis, Harbach, the company's director, arranges to go round and do an assessment to figure out what he can make for them to let them play games.
"You have to figure out what people can use and quite often they don't know themselves," he says. "I see youngsters who are in wheelchairs and ask if they can move their feet, and they might say no and their parents might say no, but I have to persevere because sometimes they've actually got a few degrees of movement in their feet, and we've got some metal foot switches which only take a few degrees of movement."
4. This app that allows nonverbal autistic children to speak to their parents.
When Rob Laffan's daughter Sadie was 3, she sent him a text: "Hi Daddy, I want chicken nuggets."
It might not seem like a big deal, but for Laffan, it was. "It was an emotional moment," he tells BuzzFeed News. Sadie has nonverbal autism, meaning she can't communicate through speech, and this was the first time she'd been able to put in her own request while her dad was at the chip shop, rather than having her parents choose for her.
Laffan was made redundant from his job as a pharmaceutical sales rep during the Irish financial crisis in 2010, the week before Sadie was born, and spent two years looking for a job, to no avail. Eventually, he decided to re-enrol in college. Six weeks into his first year at the Limerick Institute of Technology, he and his wife realised their daughter was autistic.
"I decided there and then that I was going to do something with the knowledge I was learning in my degree course that I could link to Sadie and autism, to try to help her communicate with me," says Laffan, who studied industrial automation and robotic systems.
By his third year he'd learned more about how Sadie liked to communicate. "I saw that she was visual," says Laffan. "If she wanted an apple, she'd tear a picture of an apple out of a magazine and hand it to me."
So as his final-year project he built the first version of what went on to become TippyTalk. It was a device, a bit like a bulky tablet computer, with images that let Sadie choose who she wanted to speak to and what she wanted to say. The device also needed topping up with phone credit to make sure it kept sending out text messages. But – judging by that text message Sadie had sent her dad using the device – it worked.
Laffan decided to make a version that other people could use too, so he turned the bulky device into an app.
TippyTalk launched in July last year on the Android and iOS app stores, and now Laffan says it has over 2,500 users sending messages every day. It works in the same way as the prototype did – the user has pre-programmed contacts, categories to choose from, and items in those categories. Once they've selected the images the app sends a text to whoever they chose. It comes with a few presets to get you going, but you can set your own categories and upload your own pictures to make it work for you.
The whole idea behind TippyTalk, Laffan says, is that people can make it their own, and no two TippyTalks will be alike. Even so, it won't work for everyone, which is why you can try it for a month for free before committing to a £10.99 monthly plan, or paying £97.99 for a year. "The best communication system for someone that needs it is the one that works," he says.
Laffan is now preparing for the launch of TippyTalk 2 – specifically designed for use in classrooms, with two-way communication – in September. But he says the original version will still be supported for the people who've come to rely on it every day.
"Every once in a while I'll get an email saying 'Thank you very much, my daughter has communicated with me for the first time,'" he says.
5. These custom-made products that show one size doesn't have to fit all.
Students at National Star College using wheelchair sensors made by Remap.
When it comes to products to help people live their lives, one size – or solution – doesn't always fit all. That's where charity Remap comes in. It brings together people who need a specific piece of equipment that doesn't already exist with volunteer makers and engineers who've got the practical skills to make it.
National Star, a specialist further education college in Cheltenham, Gloucestershire, recently worked with Remap volunteers to create headsets that would allow students to take part in wheelchair dance classes without having to use a joystick to control the chair's movement. Dance tutor Sarah Gardiner had seen a dancing wheelchair in the US, but wasn't aware of anything similar in the UK – so she got in touch with local Remap volunteers, and they found a way to make it happen.
Users wear a headband with a sensor on the back, and another sensor on their arm. To move the chair forwards you dip your head, and to turn you rotate your arm. "It has given the students who can access it a different way of moving and changes how they control travelling and turning in dance," Gardiner tells BuzzFeed News.
Remap deals with projects both big, like the wheelchair dance sensors, and small, like the creation its volunteers made for Linda Brown.
Brown has played piano since she was 5 years old and now teaches singing, accompanying her students on piano. But when breast cancer treatments over the last 20 years left her with limited movement in her left arm, she had to stop. "I have no use of my biceps, which means I cannot hold things, eat properly with a knife and fork, and many other necessary movements," she tells BuzzFeed News. "I still have the use of my fingers, but when I lay my hand on the piano keys, it just collapses."
Remap volunteers were able to make her a wrist support for the piano that moves with her hands. It's a simple fix that's made a huge difference. "I am so very grateful to be able to play and accompany," she says.
David Martin, network development manager at Remap, says the charity, which has only three full-time staff and relies on an extensive network of volunteers, helps a huge variety of people.
"It's an example of a really British charity where people are quietly getting on really making a difference to people's lives," he says.
6. This 3D-printed bionic hand.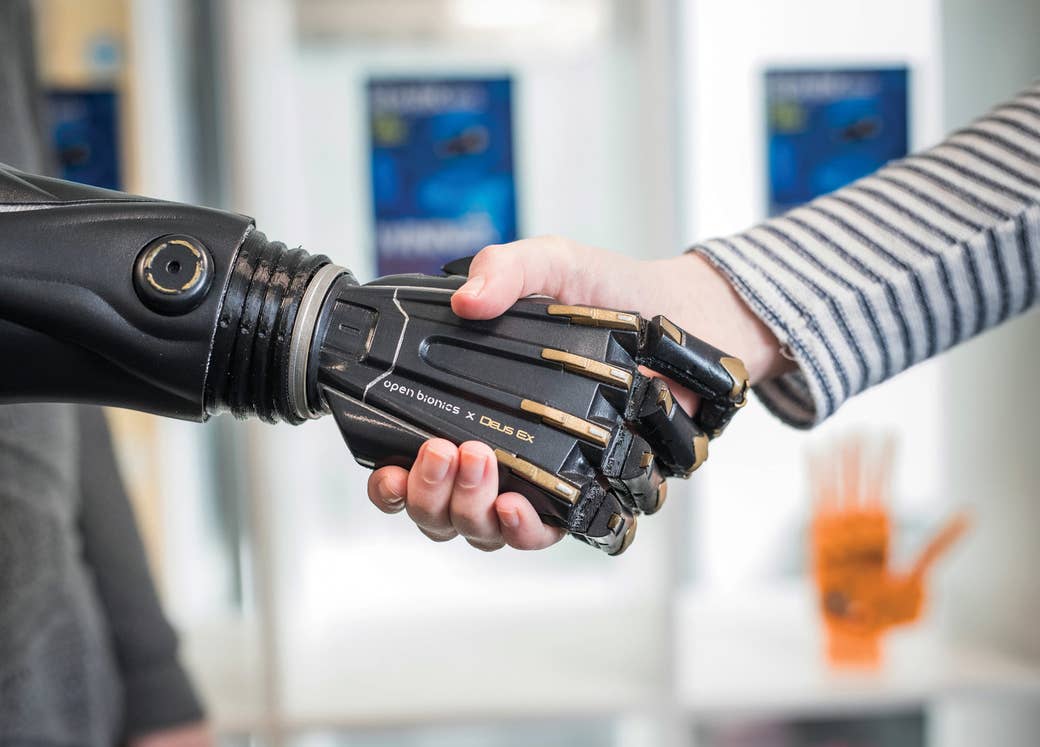 3D-printing a robot hand might sound like a gimmick, but Bristol-based firm Open Bionics is not messing around. The company, founded three years ago, is currently working with the NHS on a clinical trial of its bionic hands for amputees aged between 8 and 18.
At the time of writing, it's fitted four people in the trial, all under 12. "For us it's a giant learning curve, and it's already a success," Samantha Payne, a cofounder of Open Bionics, tells BuzzFeed News. "We've fitted four more people than we would have and we're getting patient feedback all the time."
Daniel Melville, 26, was one of the first people to test Open Bionics' 3D-printed hand.
When he was at school, Melville had what he calls the "bog-standard" NHS prosthetic hand "that did literally nothing" – he wasn't a huge fan. "Those used to make me feel more disabled, because people could immediately work out it was a prosthetic," he says.
Testing out the 3D-printed hand is an entirely different experience, he says. "You don't get people saying 'What happened to your hand?' - it's more like 'Wow, that's amazing. How does it work? What does it do?'"
Open Bionics' hands are certified as medical devices, and can be made in less than two days. By using cheaper, lighter materials than traditional bionic hands, and 3D printing instead of traditional manufacturing methods, they've been able to bring the cost down massively, too, to a fraction of what a hand with equivalent functionality would usually cost.
The company's work is also open-source, meaning anyone can get the instructions and print their own bionic hand if they have the right materials and machinery (with the caveat that whatever they make won't be a certified medical device, unlike hands fitted and made by Open Bionics itself). "I could be at a conference in Egypt and someone will rush over and show me a video of a project where they've used our hand," says Payne. "It's happened in quite a few countries."
The hands are made using a scan of the user's body, and the design can be personalised too.
In the early days Melville suggested to Open Bionics engineers that they make their bionic hands anything but flesh-coloured, after his negative experience with prosthetics as a child. "You might as well stand out for all the right reasons," he says.
Payne told BuzzFeed that one of the biggest lessons she's learned since getting started is the importance of working with people like Melville to get constant feedback. "It's much better when you work very closely with the people who will be using the technology," she says.
Melville says he gets by fine without a hand, still doing all the activities – rock climbing, kayaking – he wants to do. But it'd be useful to have one for some smaller things. "It sounds silly but holding a tray and opening a door is a pain in my backside. I've had to use my feet most of my life because it's easier," he says.
So he's still patiently waiting for the results of the NHS clinical trial, just like everyone else, and wondering if soon he'll be able to get a bionic hand of his own, to keep.
"Every time they take it away from me a little bit of my heart dies, because I want to keep it," he says. "I can't wait to finally get my hand on one of them."
Source: Buzzfeed