Macular degeneration: 'I've been given my sight back'
Posted on 20/03/2018 by
Doctors have taken a major step towards curing the most common form of blindness in the UK - age-related macular degeneration.
Douglas Waters, 86, could not see out of his right eye, but "I can now read the newspaper" with it, he says.
He was one of two patients given pioneering stem cell therapy at Moorfields Eye Hospital in London.
Cells from a human embryo were grown into a patch that was delicately inserted into the back of the eye.
'Couldn't see anything'
Douglas, who is from London, developed severe age-related macular degeneration in his right eye three years ago.
The macula is the part of the eye that allows you to see straight ahead - whether to recognise faces, watch TV or read a book.
He says: "In the months before the operation my sight was really poor and I couldn't see anything out of my right eye.
"It's brilliant what the team have done and I feel so lucky to have been given my sight back."
The macula is made up of rods and cones that sense light and behind those are a layer of nourishing cells called the retinal pigment epithelium.
When this support layer fails, it causes macular degeneration and blindness.
Doctors have devised a way of building a new retinal pigment epithelium and surgically implanting it into the eye.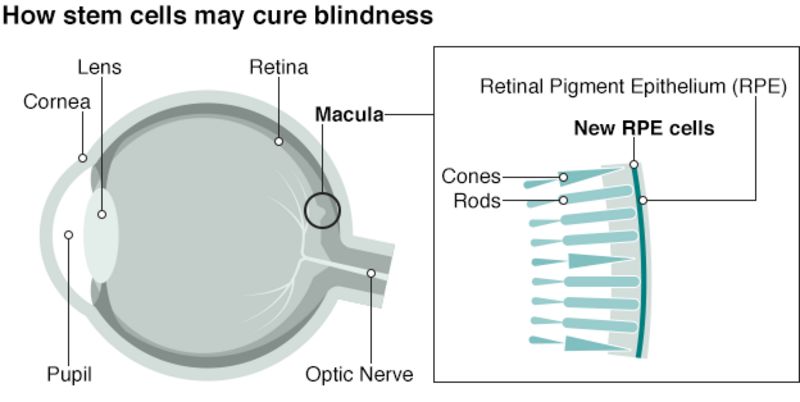 The technique, published in Nature Biotechnology, starts with embryonic stem cells. These are a special type of cell that can become any other in the human body.
They are converted into the type of cell that makes up the retinal pigment epithelium and embedded into a scaffold to hold them in place.
The living patch is only one layer of cells thick - about 40 microns - and 6mm long and 4mm wide.
It is then placed underneath the rods and cones in the back of the eye. The operation takes up to two hours.
'Incredibly exciting'
Prof Lyndon da Cruz, consultant retinal surgeon at Moorfields, told the BBC: "We've restored vision where there was none.
"It's incredibly exciting. As you get older, parts of you stop working and for the first time we've been able to take a cell and make it into a specific part of the eye that's failing and put it back in the eye and get vision back."
However, he does not call this a "cure" as completely normal vision is not restored.
Only one diseased eye was operated on in each patient.
So far the patients, the other is a woman in her early sixties, have maintained improved vision in the treated eye for a year.
They went from not being able to read with their affected eye at all, to reading 60 to 80 words per minute.
Eight more patients will take part in this clinical trial.
Doctors need to be sure it is safe. One concern is the transplanted cells could become cancerous, although there have been no such signs so far.
You may also be interested in:
Prof Pete Coffey, from the UCL Institute of Ophthalmology, said: "This study represents real progress in regenerative medicine.
"We hope this will lead to an affordable 'off-the-shelf' therapy that could be made available to NHS patients within the next five years."
More than 600,000 people have age-related macular degeneration in the UK. It's the leading cause of blindness and the third globally.
Both patients in the trial had "wet" age-related macular degeneration.
This form of the disease is caused by abnormal blood vessels growing through the retinal pigment epithelium and damaging the macula.
Dry age-related macular degeneration is more common and caused by the retinal pigment epithelium breaking down.
It is hoped the patch will be able to treat both forms of the disease.
Dr Carmel Toomes, from Leeds Institutes of Molecular Medicine, said: "What's exciting about this study is that the patients recorded an increase in vision.
"To see an improvement is a good sign that this therapy may help patients in the future, although further studies are needed before real conclusions can be drawn."
Source: BBCNews